Welcome to the online newsroom for the California Farmland Trust.  Here you'll find all the elements you need to craft a story on California farmland conservation.  For media inquiries, please contact us at (916) 687-3178 or by email.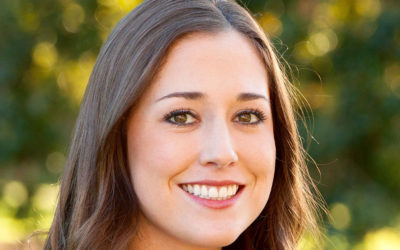 As the California Farmland Trust (CFT) works with more farmers and protects more farmland, the team is growing to meet the demand. We are pleased to announce Chelsea Molina as our new Conservation Project Coordinator.
Chelsea has a dynamic style and the experience needed to deeply connect farmers and CFT. A deep connection is paramount to building the trust and rapport required through the lengthy process of protecting farmland among agency funders, farmers and their family members, and CFT.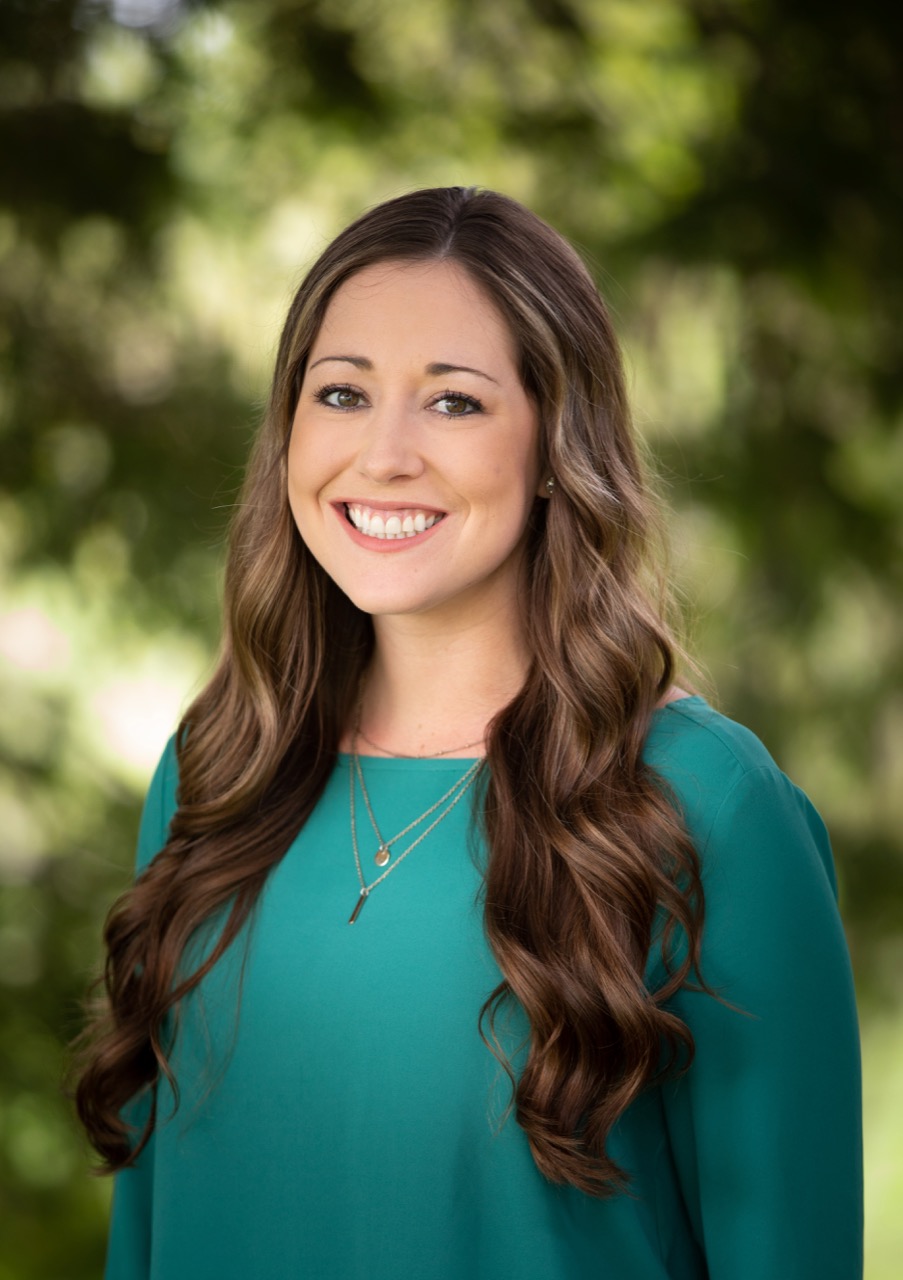 "Chelsea has in-depth knowledge of agriculture and the diversity of the participants involved in conservation work. This knowledge will contribute greatly to the overall success of the California Farmland Trust," said Charlotte Mitchell, CFT executive director. Chelsea will be in charge of conservation easement coordination and helping the CFT project team and landowners with a clear, concise, and orderly transaction process.
Chelsea comes to CFT from the California Waterfowl Association as director of development and prior to that managed the Political Affairs Department of the California Farm Bureau Federation. Thanks to an internship in Washington DC where she worked on the Farm Bill and agricultural policy, Chelsea has a keen awareness that it takes many contributing parties to succeed in conservation. "For long-term and widespread farmland conservation across a diverse state like California, the future will require support and consideration of many stakeholders, such as environmentalists, agriculturalists, agencies, and the public," said Chelsea.
"Here, we are all part of this mission and want to move it forward as a team – to protect ag land in CA," continues Chelsea. "I am very detail oriented, enjoy working with people (especially farmers), and towards a common goal. Agricultural easement transactions take all three. I look forward to moving us forward to protect more of the best farmland in the world."
Chelsea is a native of Elk Grove and a graduate of Cal Poly, San Luis Obispo where she majored in Agricultural Communications with a minor in Ag Business.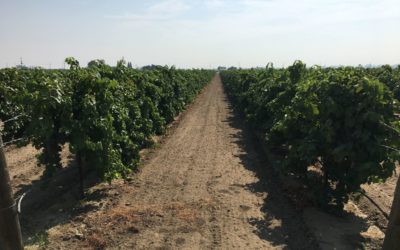 A farming family with Italian roots looks at the next 100 years on the land
ELK GROVE, CA: The Prosperi family farm began in 1920, nearly 100 years ago. Today, several generations later, the family is still farming and has permanently protected their 228 acres from development, so they can continue to farm for at least 100 more years.
The City of Madera is rapidly growing, like most other cities in California, and acres upon acres of prime farmland throughout the region are paved over every year. But thanks to the Prosperi family and the California Farmland Trust (CFT), these 228 conserved acres will help balance the city's growth, supply local industry, and allow this farming family to continue feeding your family.
The Prosperi family's cluster of three farms is run by Denis and Terri, their son Kyle and his family, along with their cousins Michael Prosperi & Karla Bauman. They grow a variety of wine grapes that supply nearby wineries like Quady Winery and The Wine Group. These properties have been home to wine grapes since 1948 when the original farm holdings grew after Victor Prosperi, Denis' father, purchased additional acres.
"Working with Charlotte Mitchell and her staff was a very pleasurable experience because of their knowledge and professionalism," says Denis Prosperi. "My family and I are very happy that we were able to make sure the land that I and my children grew up on will forever be dedicated to food production."
The family owes their farming heritage to their grandfather, who arrived in California from Italy in 1905. He worked for the Sugar Pine Lumber Company and in 1920 bought his first 20-acre farm in the LaVina area. He had three sons who all farmed until they passed away. Now the current generation, and many more to come, can freely carry on their family's tradition of land stewardship without the threat to convert to other uses.
"Like most farm families in the Central Valley, the Prosperis' have been working this land for generations," says CFT Executive Director, Charlotte Mitchell. "We were honored to help them forever protect the legacy of this fertile farmland."
The Prosperi farms are located in a scenic agricultural area that supports numerous orchards and vineyards. However, these lands are facing increasing growth pressure from the nearby City of Madera and are in need of protection. Now, these lands cannot be developed and will forever feed our families.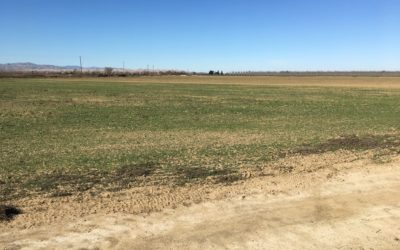 Merced County family protects an original farmstead creating a
living legacy of their grandmother's grit
ELK GROVE, CA: One woman's toughness lives on after more than 100 years. Following her husband's passing in 1922, Marie Jorgensen Andersen, an immigrant from Denmark, was left with 600 acres, her kids, and the Great Depression soon to come. With help from her neighbors and an immigrant's determination, she inspired her kids and grandkids to stay with the land that had provided so much. Now, after all this time, her grandchildren, including the Jorgensen Family and the Hooper Family, have ensured her legacy of caring for the land will live forever.
The California Farmland Trust (CFT) is pleased to announce the permanent conservation of the Hooper Family's 275 acres of farmland near the City of Gustine. This conserved property completes the process by the family to protect all 600 acres, including the adjacent Jorgensen Ranch protected in 2008, of the original family farmstead started in 1908 by Marie and her husband. The Hooper family worked with CFT and the USDA's Natural Resource Conservation Service to place a conservation easement over this prime farmland in the heart of the Central Valley.
"I used to think it was just my dad who loved this land, but as my siblings and cousins began to look back we realized it was our grandmother who really set this all in motion," said Jim Jorgensen, CFT board member and Jorgensen Ranch owner. "She was the stalwart, it was her grit and determination to learn from her neighbors about farming this land that kept it from being paved over or sold off. We are eternally grateful."
"It is no small matter that four generations claim this farmland as the seedbed of our distinctive American narrative and tradition," shared De-Anne Hooper, a family spokesperson. "My cousins and I are committed to showing our gratitude by upholding our forbearers' farming legacy; keenly mindful of this opportunity to persevere in our family's efforts to sustain the environment, improve and enrich our lives, and positively impact posterity. "
The Hooper land sits approximately two miles from the City of Gustine. The property is managed under a rotational field crop farming operation that includes processing tomatoes, green peppers, string beans, lima bean seeds, alfalfa, and safflower. This easement frees the land from the possibility of development so it can continue to grow our food and inspire future generations who may want to farm here someday.
"The mission of the California Farmland Trust is to help farmers protect the best farmland in the world," said CFT Executive Director Charlotte Mitchell. "This project embodies that mission, protecting the farmland and the family legacy. We are honored to be able to forever shepherd Marie's legacy of hard work and determination."
This project was funded by the NRCS with funding from the ACEP program.
"This is the first ACEP agricultural land easement to be funded in Merced County," said NRCS State Conservationist Carlos Suarez. "It is truly a win-win, not only protecting hundreds of acres of prime soils for future farming generations, but also expanding on existing agricultural conservation in the area."
For more information or photos, please contact:
Melanee Cottrill, mcottrill@cafarmtrust.org or (916) 687-3178
Media Kit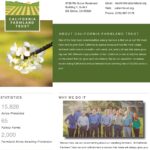 Videos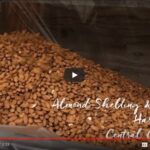 Infographics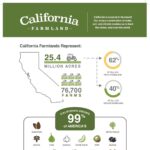 Photos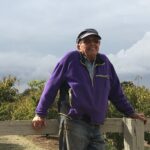 FAQs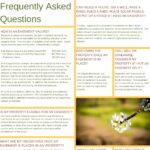 Map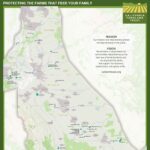 Accreditation
The California Farmland Trust is proud to have been an accredited land trust since 2008.  We were one of the first land trusts ever to be accredited.  The accreditation seal is a mark of distinction in land conservation.  It is awarded to land trusts meeting the highest national standards for excellence and conservation permanence.  Each accredited land trust completes a rigorous review process and joins a network of organizations united by strong ethical practices.